---
Patented StretchLeather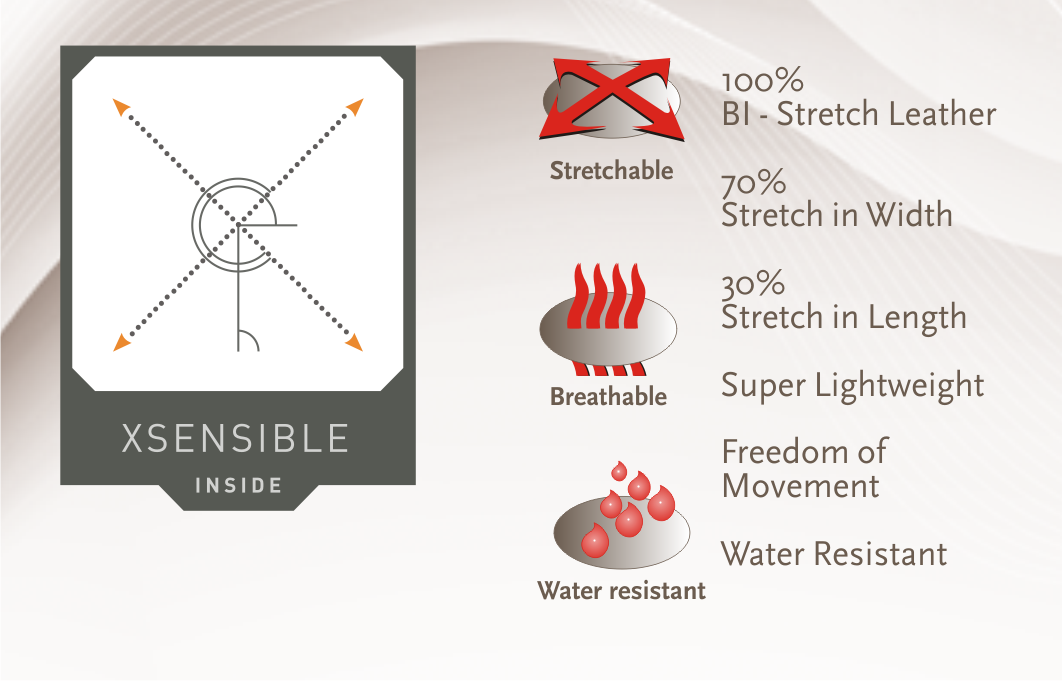 Enjoy Your Shoes, they were specially Made4You!
Schuhpflege
Um Ihre Schuhe in gutem Stande zu bewahren, empfehlen wir Ihnen folgendes:
- Falls diese nass werden, entnehmen Sie die Bettung und trocknen Sie die Schuhe im Freien
- nie bei der Heizung oder am Kamin trocknen
- nicht waschen
- unsere Schuhe sind aus Leder, benützen Sie desahlb auch die dazu geeigneten Pflegemittel
- tragen Sie neue Schuhe nicht den ganzen Tag lang
Schuhpflege - Anleitung
Glattleder
- putzen Sie mit einem feuchten Schwamm
- verwenden Sie Schuhcreme
- polieren Sie mit einem besonders weichen und trockenen Putztuch, um Glanz und Weichheit zu erlangen
Nubuk
- putzen Sie mit einer weichen Schuhbürste oder mit einem trockenen Schwamm
- verwenden Sie Dampf, bürsten Sie und lassen Sie den Schuh an der Luft trocknen
- verwenden Sie auch einen Spray für die Pflege von Nubukleder
Unsere meisten Schuhe kann man mit X-sensible Inside machen lassen. X-sensible Inside ist eine speziell entwickelte und patentierte Technologie von Stretch-Leder. Die Schuhe die Teils mit diesem Leder produziert werden (nur für das Blatt geeignet), passen sich der einzigartigen Form des Fuβes an.
Das Resultat?
Exzellente, bequeme und perfekt sitzende Schuhe!
Xsensible Inside is Part of the Sensible Shoe Company
Xsensible Worldwide Patents:
U.S.A US 7,041,867
Europe EP 1368148
Australia AU 2002232302
China ZL 02805443.1
Canada CA 2,435,247
Hong Kong HK 1066502
Iceland IS 2615
Japan JP 3917521
Mexico MX 247549
Enjoy Your Shoes, they were specially Made4You!
Care Instructions
To ensure the long lasting quality of your shoes, take these simple advices:
- if your shoes happen to get wet, let them dry naturally, removing the insoles first;
- don´t put them under the heater or near the fireplace;
- don´t wash them
- our shoes are made of leather, use proper products to clean them;
- don't wear them all day, in the first days of usage;
Cleaning Instructions
Leather
- clean with a moist sponge;
- apply a cream shoe shine polish cream;
- to finish polishing with a soft cloth for perfect and shining finishment.
Nubuck
- Clean with a soft brush or dry sponge;
- Apply steam, brush and then let it dry;
- Use a nubuck cleaning Spray
Most of our shoes can be built using Xsensible inside which is a specially designed and patented leather technology. Shoes produced with Xsensible inside Bi-stretch leather technology adapt to the shape of the foot where it is most important.
The result?
Great, comfortable fitted shoes!
The Patented Technology that guarantees extremely comfortable shoes:
100% BI - Stretch Leather
70% Stretch in Width
30% Stretch in Length
Super Lightweight
Freedom of Movement
Water Resistant